The Institute for Professional Excellence delivers the Golden Stars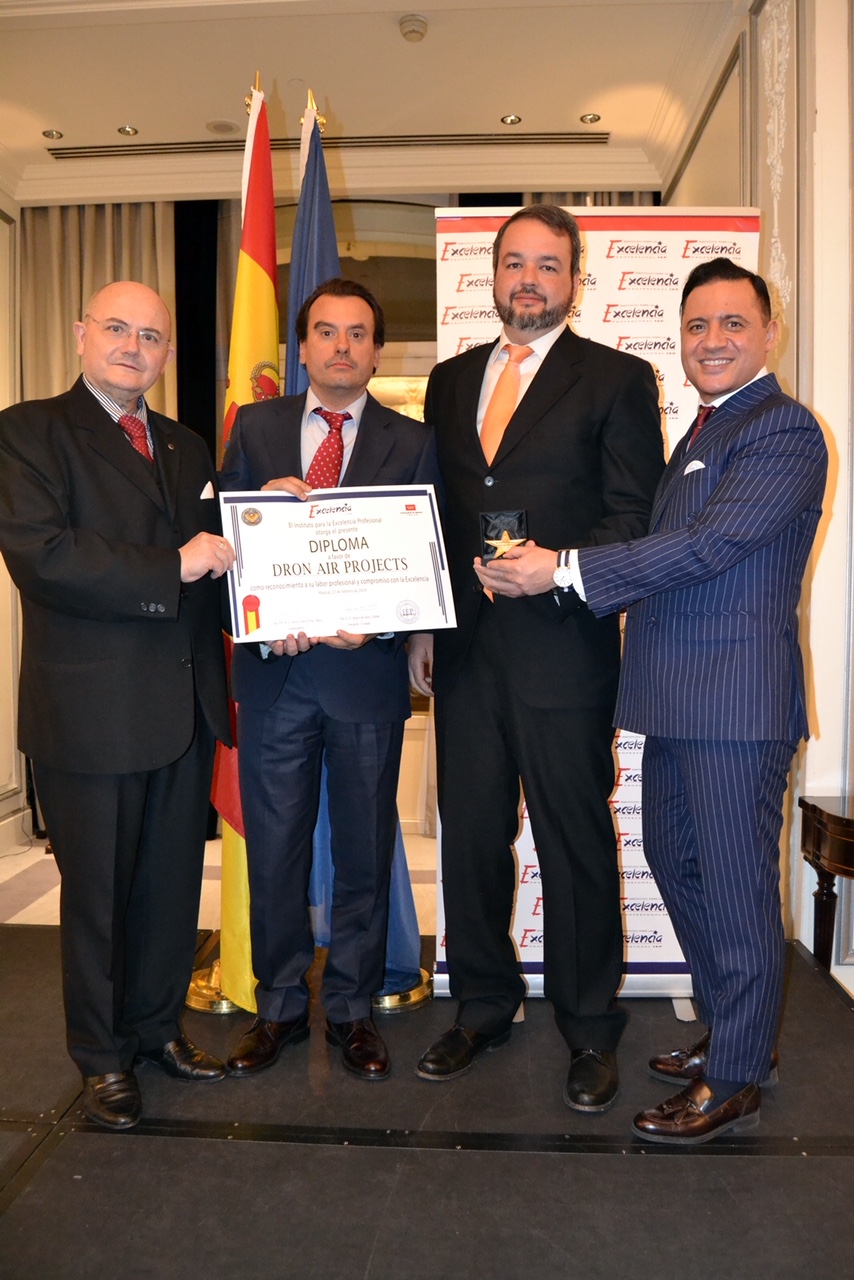 The most outstanding entrepreneurs and professionals from all sectors have received these awards for their commitment to excellence, competitiveness, research, development and corporate social responsibility
Last Friday, February 23, 2018, the Westin Palace Hotel has hosted the awarding of the Gold Star Award for Professional Merit awarded by the Institute for Professional Excellence for five years with the aim of rewarding quality and certifying the commitment of the best Institutions, companies and professionals of any sector at a national level. The evening was conducted by Antonio Gabriel Pérez Mateu, vice president of the IEP, who presented these awards together with the president of the Institute, Ignacio de Jacob y Gómez.
In this gala, they have received the Gold Star: Fernando Arellano, from Spanish Luxury Footwear S.L., fourth generation of shoemakers responsible for the footwear of the most representative brands at international level; Esthetics Centers Nina Merli, a wellness refuge in the center of Granada recognized for its wide variety of products of the highest quality; Arte y Compás, established firm of flamenco designs created by Antonia Rocío Silva, which gives each of her costumes her unmistakable stamp; Marina Tikhomirova de Bohema, a brand of non-damaging treatments for nails, eyelashes, face and hair; Calduch Laboratories, responsible for the Dermo-Suavina Calduch, with more than 130 years of history, has positioned itself as an emblematic brand that is part of the personal memory of several generations; Vanesa López, assistant in the management department of Grupo Pamares, integral services company for buildings and premises; Lorena Campillo, one of the favorite stylists of actresses, singers and celebrities for her avant-garde treatments; M. Reina Gracía Closas, Doctor in Medicine and Surgery from the University of Barcelona, ​​specialist in Preventive Medicine and Public Health and author of several books as 'Emodieta'; Juan Ignacio Ruiz Zorrilla, director of Audiolís, one of the reference training centers in our country; Bo Barcelona, ​​hairdressing and beauty salon specialized in styling, aesthetics and podiatry; Zamakona, one of the most important ship repair and construction groups in Spain with more than 40 years of experience in the sector; Ina Buzubrici Lupan, director and founder of Lashes and more, company adapted to the new trends specialized in eyelashes, manicures and pedicures; Damián Gómez, considered one of the best personal trainers by the IFB; Félix Fernández, CEO of Dron Air Projects and Antonio Velasco Moreno, Technology Director of this leading company in the unmanned aerial industry; Javier Fernández Arrojo as operations director, Ana Jiménez Porcuna, publicist expert in Personal Branding and helps entrepreneurs; Bárbara Lorenzo hairdressers, innovative stylists who create fashion with their cuts and color treatments; Guitarras Bros, a company founded by Francisco Broseta Rogla in the 50s and which has become one of the main guitar builders; Natalia Calderón, expert in strategic marketing that helps women entrepreneurs to succeed with their business; Milyan Lashes, recognized beauty salon and training center of the city of Malaga; among others.
About the institute for professional excellence
The Institute for Professional Excellence, founded and chaired by Ignacio de Jacob y Gómez, is a guarantee and quality brand that recognizes the effort and commitment to excellence of the best companies and professionals. Since the inauguration of the IEP, five years ago, it has awarded Natura Bissé, Halcón Viajes and Lo Mónaco, among others.
Among the Institute's honorary advisors are: Prof. Mr. D. José Luis Cordeiro, engineer and founding professor of the Singularity University; Prof. Mr. Carlos Jesús Ruiz Cosano, specialist in Pediatrics, Pediatric Endocrinology and President of the Constitution Club; Ilmo. Mr. D. Luis del Olmo, Doctor Honoris Causa; among others.